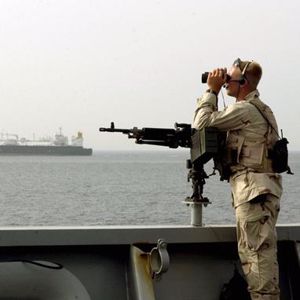 The Navy's Great Green Fleet displayed its excellence just 100 nautical miles northeast of Oahu in the Pacific Ocean. The Navy hosted a biofuel display to push forward with a green energy initiative that will allow the United States to decrease its vulnerability to purchasing foreign oil. Although the expensive venture has seen opposition from several politicians, U.S. Navy Secretary Ray Mabus believes it is a step the nation has to taken to protect itself.
Mabus met with Rear Admiral Tim Barrett of the Royal Australian Navy on the deck of the USS Nimitz on July 18. Accompanied by two American destroyers, a cruiser and a fuel ship, an Australian helicopter with Barrett landed on the deck in hopes of a collaboration between nations on a fuel source. The allies agreed to work together on research and deployment of such biofuel technology used in the display that went on that day.
The Navy's goal is to deploy a permanent green strike force by 2016 and get half of their fuel supply from alternative resources by 2020, and the day's events showcased just how this goal may come to fruition. The biofuel created for the demonstration was a 50/50 combination of petroleum and biofuel derived from algae and used cooking oil. The only downfall is that the combination is quite pricey.
For the demonstration, which involved six biofueled F/A-18 Hornets, used 900,000 gallons of the fuel and cost $13 million. The cost is estimated at four times more than oil raised questions among Congressional Republicans a few Democrats and subcommittees in the House and Senate, who voted on banning the Navy from using fuel resources that are more expensive than oil.
The Senate version of the bill bio-refineries to increase the speed of commercialization of experimental biofuels, according to The Hill. This would make it difficult for biofuels to become cost competitive, which is the only way the Navy will be able to use such resources.
"If you look at the reasons we're doing it, we're not doing it to be faddish, we're not doing it to be green, we're not doing it for any other reason except it takes care of a military vulnerability that we have," Mabus said at a news conference in the Nimitz's hanger. "We simply have to figure out a way to get American made homegrown fuel that is stable in price, that is competitive with oil that we can use to compete with oil. If we don't we're still too vulnerable."
Mabus also said that the prices would only decrease if the military, along with other industries make massive purchases. Even though the Navy needs 340 million gallons of fuel annually, the cost wouldn't go down enough unless other private industries like commercial airlines joined the venture.
The military has also recently began the second phase of a billion dollar project, Project SolarStrong. The initiative began by Silicon Valley start up, SolarCity will install solar panels on 120,000 units of privately managed U.S. military housing. The company was originally promised a $344 million federal loan, but after it fell through, officials with SolarCity teamed up with Bank of America to ensure the goal would be met.
The project will be completed at the Los Angeles Air Force Base in California and the Peterson and Schriever Air Force bases in Colorado Springs, Colo, which will total 18,000 photovoltaic panels on 850 residences. Expected to be completed by next year, the projects will generate 4.2 megawatts, which will accommodate between 30 percent and 60 percent of energy used at the residencies.